7 Epic KOAs Perfect to Base Your Next National Park Glamping Adventure
Posted on: July 18, 2023
|
|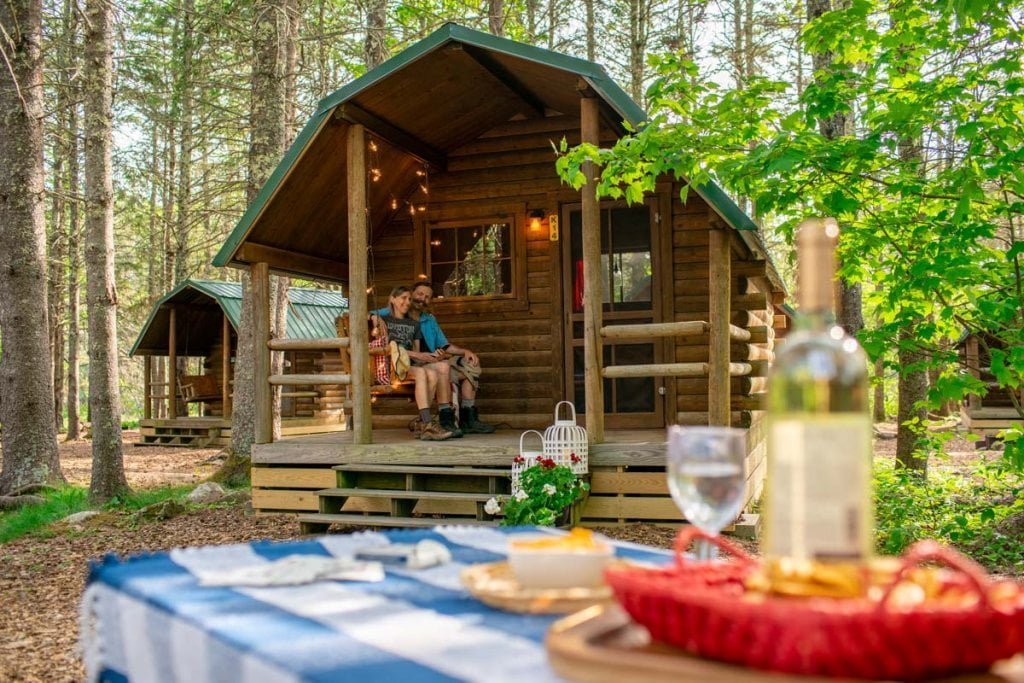 Camping is a popular way to escape city life and get close to nature, but glamping has shown you don't have to hike into the mountains to experience the great outdoors. If you're looking into glamping, you're not the only one, as four out of ten campers showed an interest in 2023.
According to a recent study, that's a significant jump from the previous year, and an increasingly popular way to experience glamping is through Kampgrounds of America (KOAs). These campgrounds offer amenities beyond your typical camping adventure — from dedicated dog parks and cabins to hot tub facilities.
So instead of putting your travel budget into a hotel close to a national park, consider booking a spot at a KOA near these stunning destinations.
1. Acadia National Park
Nearby KOA: Bar Harbor/Oceanside KOA Holiday
Distance from National Park: 5.8 miles / 10 minutes
Bar Harbor/Oceanside is a waterfront resort offering RV sites, camping cabins, and tent sites — the only campground on the west side of Mount Desert Island. You can book a deluxe cabin complete with private (full) bathroom and kitchen, as well as extras like a covered patio.
One of the biggest draws in Maine is the fresh seafood, and this KOA site features lobster dinners five nights a week. One reviewer says that the "location, staff, and oceanfront sites can't be beat!"
Those looking for get-togethers will enjoy S'more Galore Friday at the campfire, while there are lawn games, recumbent bike rentals, and a basketball hoop. Kids have the chance to search for sea stars in the nearby tidal pools.
2. Badlands National Park
Nearby KOA: Badlands/White River KOA Holiday
Distance from National Park: 5 miles / 8 minutes
The Badlands of South Dakota are rocky and dry with minimal vegetation. But when you stay at this site, you'll get to spend time relaxing in the pool (open from Memorial Day to Labor Day) or lounging underneath the tall shade trees.
Park your RV, set up a tent, or book a cabin or yurt. Many of the lodging options include a bathroom and patio, and some are spacious enough for four to six sleepers. A Camp Store and Cook Shack are on-site, giving you a range of meals and supplies without having to leave the grounds. Both close off-season.
3. Glacier National Park
Nearby KOA: West Glacier KOA Resort
Distance from National Park: 3 miles / 5 minutes
Located in western Montana, Glacier KOA gives guests dramatic mountain views and convenient access to almost 700 miles of trails. Visitors can also catch the "Red Bus" for a Glacier National Park guided tour.
The Lazy Bear Cafe is open every morning for breakfast, whether you want to eat in or take something with you. It's the perfect place to base rafting or fly-fishing adventures. There is also sports equipment on-site. For more relaxed activities, take advantage of on-site Friday craft nights and an educational birds-of-prey presentation.
4. Great Smoky Mountains National Park
Nearby KOA: Gatlinburg East/Smoky Mountain KOA Holiday
Distance from National Park: 3.6 miles / 7 minutes
The closest KOA resort to the Great Smoky Mountains National Park includes an outdoor swimming pool, playground, spaces for disc golf and horseshoes, and a pavilion to gather with friends.
Aside from the on-site entertainment, you'll get to explore nearby Gatlinburg and more than 800 miles of trails in the national park.
Park your RV, pitch a tent, or stay in a cabin with a bathroom. This KOA sits on 16 acres and includes fire pits to have a cozy night cooking or roasting marshmallows.
5. Mammoth Cave National Park
Nearby KOA: Horse Cave KOA Holiday
Distance from National Park: 15 miles / 22 minutes
Mammoth Cave is the longest cave system in the world, and the nearest KOA campground has several unique offerings to experience this natural wonder. So, alongside RV spots, tent sites, and cabins, you get to stay in a Conestoga wagon, teepee, or treehouse!
Your adventure continues across the grounds, with activities including mini golf, fishing, swimming, and a playground. Furry friends are allowed on-site with a leash and are catered for with a KampK9 dog park.
6. Rocky Mountain National Park
Nearby KOA: Estes Park/Rocky Mountain National Park KOA Holiday
Distance from National Park: 4 miles / 10 minutes
KOA's campground near Rocky Mountain National Park may seem like a small town, but as guest Audrea Peeper notes on a Google review, "The location [is] beautiful and [we] felt like we were more remote than we actually were." There is also free shuttle transportation to the park and immediate access to Lake Estes and the Big Thompson River for fly-fishing, boating, and paddle boarding.
Peak season at this KOA site brings lots of treats for the whole family, with pancake breakfasts and marshmallow roasts. Those looking to stay active get use of a basketball half-court and there are nearby bike and ATV rentals. Deluxe cabins come with full baths, while RV and tent sites have electric hookups. Campground amenities include a KampK9 dog park and WiFi.
7. Saguaro National Park
Nearby KOA: Tucson/Lazydays KOA Resort
Distance from National Park: 14 miles / 20 minutes
Although located in the desert, this family-friendly resort bills itself as an oasis thanks to its inviting grass pads and fruit trees. In public areas, you can stay cool under shades that provide solar energy to the campground.
When you're not at Saguaro National Park, beat the Arizona heat by swimming in one of two on-site pools. You'll get to play sports or golf in the recreation areas, unwind near the pond, or socialize around a fire pit. Deluxe cabins are in Southwestern style and feature baths, kitchens, and patios.
KOA Provides High-Quality Camping Close to National Parks
There are almost 500 KOA campgrounds in the United States and Canada, so you're never far from a national park. Staying close by doesn't mean you have to rough it in a tent; KOA gives you several lodging options.
With access to amenities like pools, stores, and restaurants on many sites, enjoy an affordable version of glamping and mark a few national parks off your travel bucket list.