Get High on Adventure: 10 Enchanting Treehouse Airbnb Rentals Across the USA
Posted on: April 25, 2023
|
|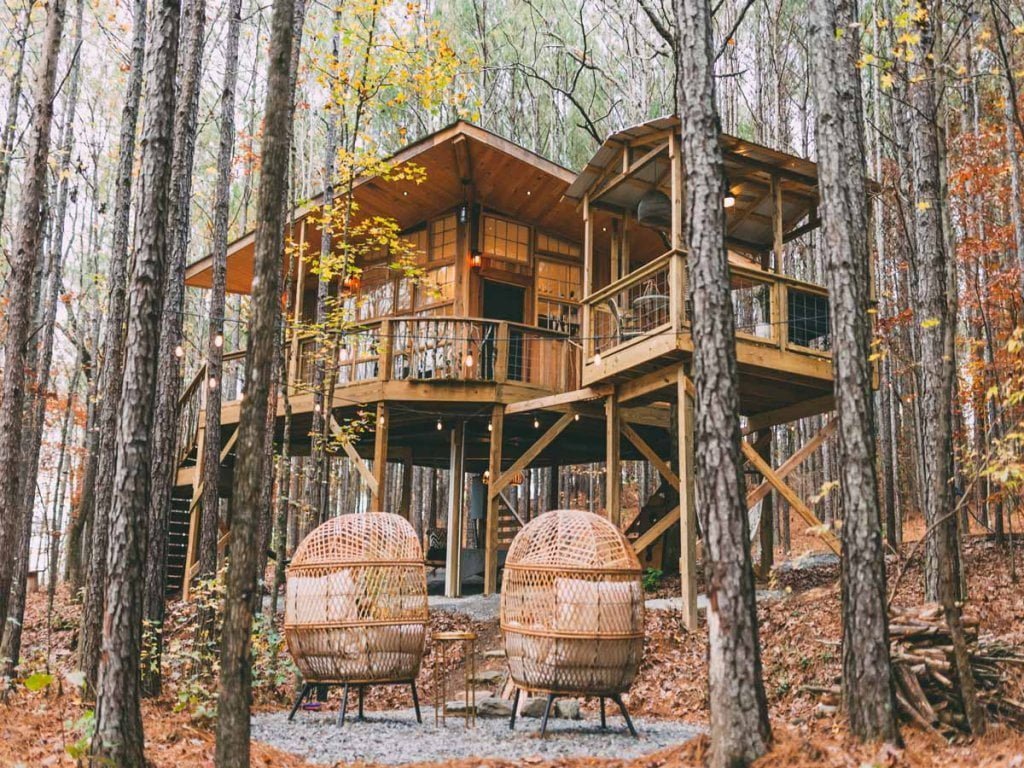 Do you yearn for a simple life in the trees like the Swiss Family Robinson or Tarzan? Maybe you've been obsessed with the idea since you saw the ethereal elves of Lothlorien in Lord of the Rings. Whatever your inspiration, you can make your treehouse dreams a reality with these incredible treehouse Airbnb rentals in the United States.
You're not the only one obsessed with treehouse living. More and more, people in the United States are choosing the outdoors to overcome feelings of isolation and to connect with loved ones in beautiful settings surrounded by nature. According to Airbnb, there have been over 137,000 guest nights stayed in US treehouses between Jan. 1 thru Sept. 30, 2022.
While these tree house rentals offer a glimpse of the simple life, there are plenty of luxury and modern amenities in each. This list of the best treehouse rentals can be your starting point to plan out your retreat.
1. Red Rock Vista Treetop Cabin
Location: Jasper, Arkansas
At first glance, this treehouse Airbnb barely cuts a profile in the surrounding forest. What looks like an unassuming cabin transforms the moment you step through the doors into a stunningly decorated space.
The blend of rustic wood beams and natural stonework creates a luxurious retreat with all the amenities you could dream of, including a jetted tub and waterfall shower. Curl up on the couch before the fireplace, prepare meals in the full kitchen, and take in the view through the wall of windows visible from almost anywhere in the cabin.
Any guest might not want to spend too much time inside this treehouse rental, though. Step onto the massive covered balcony to gaze at the tree-filled valley below. This porch wraps halfway around the house and features comfortable furniture to help you relax and connect with nature. This is a great place to base when hiking in Buffalo National River.
2. Wanderlust Treehouse
Location: Crane Hill, Alabama
Providing a true treehouse feel, the Wanderlust practically disappears into its surroundings. Raised off the ground with low-profile steps leading to the elevated abode, you're sure to get in touch with your inner child.
Cozy enough for two guests to enjoy an intimate stay, this Airbnb treehouse's quaint decor carries a rustic feel, with wood floors and natural fibers at every turn. The details offer charm and reflect the owner's care in meeting every visitor's needs — especially a couple on a romantic retreat.
One of the best parts about this Airbnb treehouse is the fire pit, which gives a lovely nighttime ambiance. There's plenty of privacy, making it an ideal spot to soak in the romantic bath after a hike or swim in the lake. If you're in a hurry to explore more, rinse off in the outdoor shower (closed from December through February). Whether you're an Alabama local or are just passing through, add this on your list of places to stay and things to do in Alabama.
3. Meadowlark Treehouse at Montana Treehouse Retreat
Meadowlark Treehouse at Montana Treehouse Retreat
Location: Columbia Falls, Montana
If you truly want to escape the bustle of daily life, beautiful Montana is a must-visit. Tucked away in a wooded grove, this unique treehouse Airbnb allows you to make the most of your privacy in an oasis of tranquility. It's also close to Glacier National Park for those seeking more outdoor excursions and hiking trails.
Two guests will feel more than comfortable in this one-bedroom, two-story retreat with a queen bed and full kitchen. It's elevated and built around massive trees that help make the natural elements stand out. Every aspect of Meadowlark Treehouse considers the surrounding land and blends rustic designs with chic modern fixtures for a striking aesthetic. Though it's secluded, there's another treehouse rental nearby, making it an option for families.
4. Modern High End Cabin #3 on Horsehead Lake
Modern High End Cabin #3 on Horsehead Lake
Location: Clarksville, Arkansas
Of all the treehouse rentals, this one might have the most quintessential Swiss Family Robinson vibe. This high-end cabin sits among the treetops and even features a walkway to an open tower that overlooks the surrounding National Forest and lake.
Moreover, it might be the best treehouse for active families seeking outdoor fun. Grill, have a campfire, or spend time on the water in the site's kayaks, canoes, or paddle boats. You can even bring the family pet to this outdoor refuge.
If you end up with a bad weather day or need a break from nature, settle into the luxurious modern amenities, including WiFi, to enjoy the canopy treehouse from the inside. Plan a stay here for a romantic getaway in Arkansas.
5. Lovely Treehouse in the Woods
Location: Hardwick, Vermont
This enchanting Airbnb treehouse offers guests complete immersion in nature at any time of year. It's tucked away in a copse of towering trees and loaded with features that let you keep it sweet and simple for your entire stay.
Stay alone for quiet reflection or bring others to get away from it all. Enjoy a morning cup of coffee on the balcony while watching out for wildlife and listening to the nearby creek.
One thing to keep in mind is that you will need to climb a ladder to reach the lofted bed, and it's a tighter sleeping space.
The owner is committed to an environmentally-friendly lifestyle with minimal impact on nature. With that in mind, this extraordinary treehouse features solar energy, relatively few appliances, composting and recycling, and a primitive compost toilet. Of course, there is a full bathroom if you don't love the idea of a composting commode.
6. Treetop Hideaways: Luna Loft
Location: Flintstone, Georgia
You will find this gem along the Georgia-Tennessee border, about 20 minutes from Chattanooga. Flanked by two trees and a massive boulder, this hideaway blends vintage-rustic charm and natural beauty. Lots of windows provide natural light and practically draw the outdoors inside.
The attention is in the details with this treehouse Airbnb, from a copper penny floor in the bathroom to complimentary snacks. Be sure to plan time around the fire pit so you can take advantage of the s'mores kit included with your stay.
Hikers will appreciate the nearby trails that wander deep into the woods to lookouts and pristine mountain springs near this unique Airbnb.
7. Treehouse in the Cloud
Location: Saint Cloud, Florida
A peaceful treehouse might not be the first thing that comes to mind when you think of Saint Cloud, Florida. Though it's close to plenty of activities, this retreat is set away from it all, with privacy and treetop views.
The small cottage features a wraparound walkway, offering guests an ideal reading spot. Charmingly, its refrigerator is always stocked with carrots to feed the four horses that reside on the property.
While Treehouse in the Cloud is minimalistic, it still offers amenities like air conditioning and HDTV with several streaming services.
This treehouse Airbnb sleeps two guests, but there's another space on the property that accommodates up to six — the perfect place for families and larger parties.
8. Raven Rock Treehouse
Location: Fletcher, North Carolina
If you really want to feel like you're up in a tree in the middle of nowhere, try this sky-high retreat in North Carolina. It's set in a clearing near the top of a few towering trees that serve as supports.
A winding staircase wraps around the tallest trunk for the only entrance to this sanctuary treehouse. Once you reach the top, you might never want to go home. After all, who would want to leave behind the surrounding 40-acre wildlife preserve with access to plenty of hiking trails?
The natural elements filter into this unique Airbnb with cleanly paneled walls, a wood-burning stove, and simple, rustic decor. While you won't exactly be roughing it, this site is off-the-grid. There are minimal cooking and restroom amenities.
9. Live Oak Treehouse at HoneyTree Farm
Live Oak Treehouse at HoneyTree Farm
Location: Fredericksburg, Texas
This stilted sanctuary treehouse might give you pause because it's tucked away in a copse of trees at the end of a long path, but step a bit closer, and you won't regret it.
Live Oak Treehouse oozes charm and comfort from the multi-faceted exterior featuring a blend of wood and metal framing to the elevated deck built around tree trunks.
The purpose of HoneyTree Farm is clear from the moment you set foot on the premises. Owners Jacob and Katie agree that respite from the world beyond is necessary for any family, noting, "As parents of young children, we designed these spaces for maximum tranquility. We cherish our time together free of distractions and obligations, so we channeled that craving into each of the treehouse designs. They are full of light and whimsy, round windows and outdoor bathtubs. They do have good WiFi, but no TVs."
10. Tullihas in the Trees Off-Grid Treehouse
Tullihas in the Trees Off-Grid Treehouse
Location: Frazeysburg, Ohio
Families looking to disconnect from tech will appreciate this off-grid, peaceful treehouse. This remote destination offers a unique glamping experience with no electricity or running water but plenty of potable water on hand. Expect to spot wildlife, wake to the sounds of early-rising goats, and appreciate the sea of stars nightly.
The multi-level retreat features a living room and lofted bed with the option to sleep up to five people. Though the space is smaller, the views are spectacular. Plus, there's much to do in the great outdoors, including lounging in hammocks, exploring the woods and creeks, and, of course, making s'mores in the fire pit.
All images courtesy of Airbnb. Featured image of the Wanderlust Treehouse in Crane Hill, Alabama.
This article was produced and syndicated by The Happiness Function.