Why Camping at Buffalo Point Campground is Awesome!
Posted on: June 30, 2023
|
|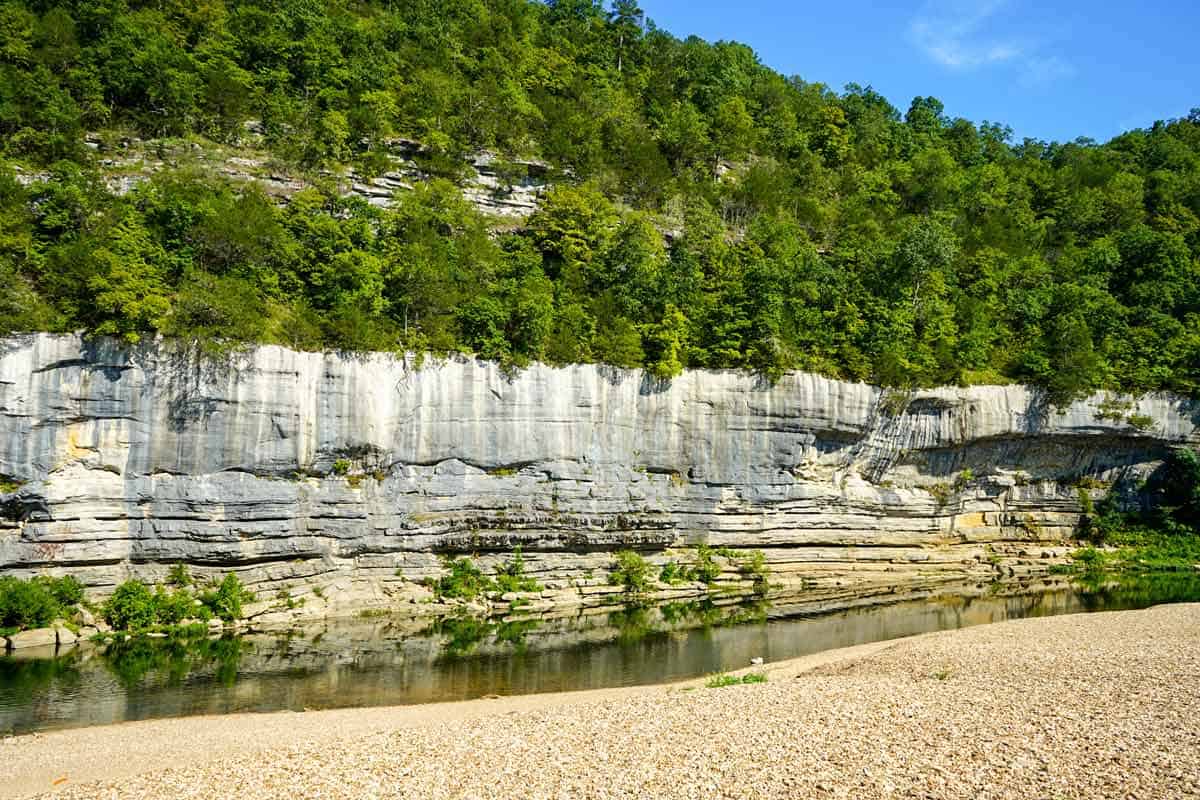 Located next to the crystal-clear waters of the undammed Buffalo National River, Buffalo Point Campground is the perfect place to camp, hike, float the river, or fish during an Ozark Mountain getaway. Known for its iconic bluffs, continue reading to discover why this is a local favorite and one of the best places to camp on the Buffalo National River.
This post contains affiliate links, which means we'll receive a commission if you purchase through our links at no extra cost to you. Please read full disclosure for more information. Thanks for your support!
Guide to Buffalo Point Campground in Buffalo National River
Visiting Buffalo Point makes for a fantastic weekend trip. There is a great campground managed by the National Park Service, multiple swimming holes to explore, and miles of trails with epic views of the iconic bluffs.
You can bring your kayaks and canoes to float the Buffalo or rent gear nearby at one of the many outfitters lining the highway.
Let's get into the details!
Where is Buffalo Point Campground?
Buffalo Point is located near Yellville, Arkansas, off highway 268 E.
Campground Details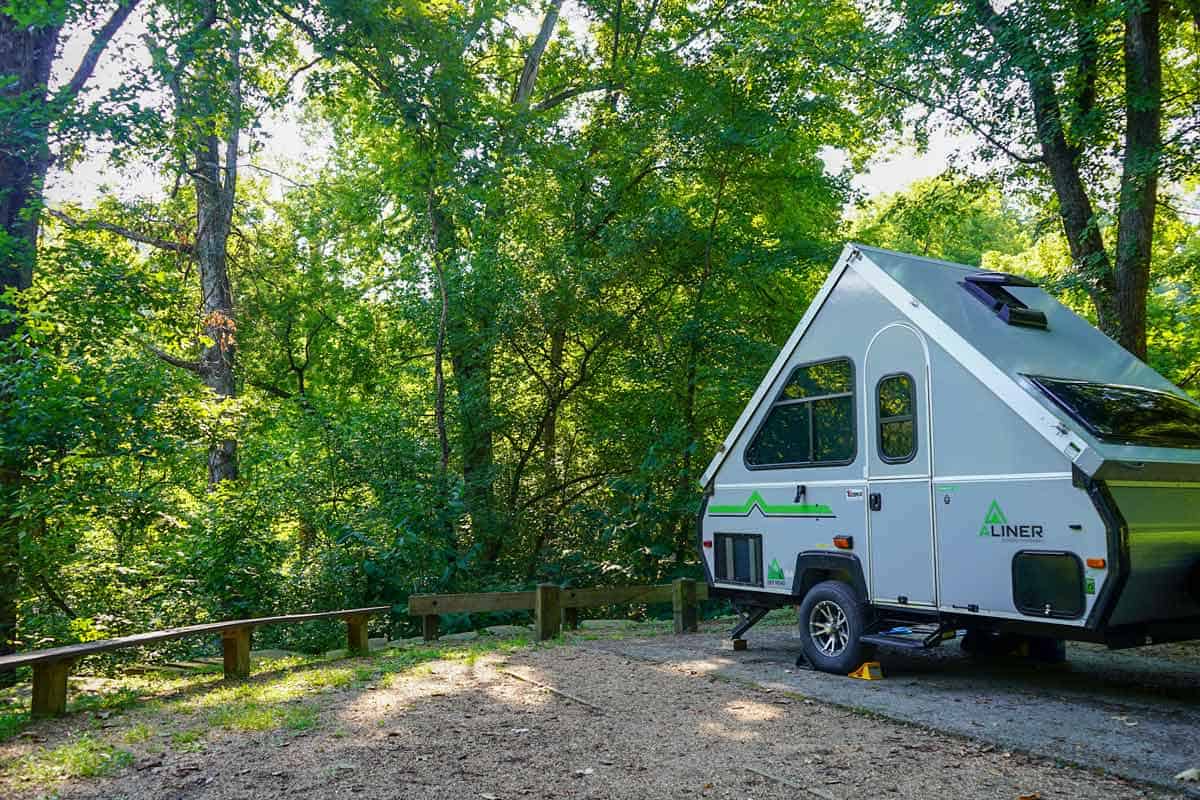 Buffalo Point Campground is the park's crown jewel of developed campgrounds. The campground is RV-friendly, with water and electric hookup, multiple bathhouses with hot showers, and restroom facilities with flushing toilets.
The bathhouses and bathrooms get the job done but don't expect anything fancy.
The campground is right next to the Buffalo River and is surrounded by a wooded area. You can see the river from most campsites; however, some sites have more unobstructed views depending on the vegetation.
More camping site information:
Fire Ring: Yes
Grill Over Fire Ring: Yes
Picnic Tables: Yes
Shade: Yes, most spots have partial shade.
Dump Station: A dump station is available when exiting the park.
Fees
A standard electric campsite is $30 during peak season.
There is no entrance fee to enter the national park.
For more information on campsite fees, visit recreation.gov.
We use the recreation.gov app to reserve campsites online ahead of time. It is so convenient to use!
You can look up details for each campsite on the recreation.gov app to select the best camp for your needs (if there is shade, what size rig the site can accommodate, proximity to the bathhouse, etc.).
Check out more free apps to plan the best road trips, hiking, and camping!
Seasonal Information
Campground Facilities
The campground is open year-round.
However, from November 15 to March 14, the campground turns off water and electricity.
Outside of peak season, camping is FREE from November 15 to March 14.
Restaurant
A restaurant is open at the park daily from Memorial Day to Labor Day during peak season. However, restaurant hours die down outside of the peak season, and the restaurant is only open on weekends.
Things To Do
Hiking Trails at Buffalo Point Campground
There are multiple trails to hike.
Below are two of the most popular.
Indian Rock House – One of the most famous hikes at Buffalo Point is to Indian Rock House, which was once a prehistoric bluff-dwelling. The trail is a 3.3-mile loop and is rated as moderately difficult. Dogs are not permitted on this trail.
Overlook Trail – This is an easy 1.3-mile loop with great river views. Dogs are allowed on this trail.
There are also more trails wandering through the campground and the forest, and some that lead to the river.
Floating the River
Floating the Buffalo River is a popular activity to do! You can bring your gear or rent gear from one of the many outfitters in the area.
Just do a quick Google search of places to rent kayaks near Buffalo Point, and you'll have a few options to select from.
Shop the best towel for camping and river trips (like in my picture below)!
Swimming
There are a few great places to swim. For example, you can swim at Buffalo Point with the iconic bluffs and a lovely swim beach. Or, in the camping area Loop C, there is a trail to another beach with shallow water. We spent hours here soaking up the sun. It is awesome!
Don't forget river sandals!
Are Dogs Allowed?
Yes, dogs are allowed at the campground.
Dogs are also allowed on the Overlook Trail, Campground Trail, and Forest Trail (but not on the other trails here).
Is There Cell Service?
There is no cell reception at Buffalo Point. However, there is a pay phone.
Our Experience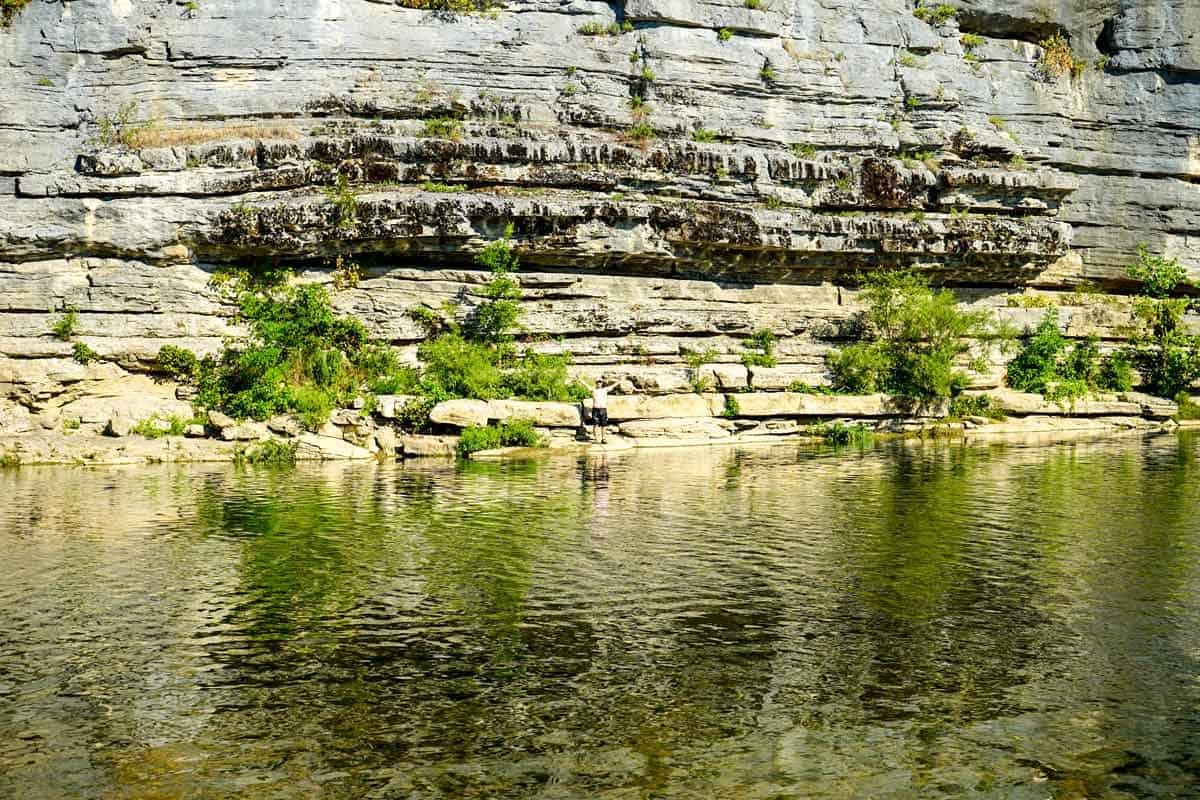 We drove to Buffalo Point from Ponca, AR, after hiking Hemmed in Hollow earlier in the morning in the Upper District near Compton.
We were in awe once we got to camp and were greeted by the colossal bluff, Buffalo Point, and the clear river water. It was mid-August, and we jumped in the river as soon as we rigged up camp.
The campsites were clean and well-spaced.
We met lots of folks with gear ready to kayak the river. Though it was mid-August, the area wasn't too buggy. We camped in Loop C, and most of the sites had shade.
Final Thoughts
After visiting Buffalo Point Campground, you'll see why it's a local favorite on the Buffalo. With great campground amenities, proximity, and easy access to the river, camping at Buffalo Point Campground is a great place to enjoy the Buffalo National River.
If you love Arkansas as much as we do, read more about Arkansas Travel on our blog!
Thanks for reading.
Ashlee & Pablo
---
More Things To Do in Buffalo National River
Find more inspiration to plan an epic adventure:
We Want To Hear From You
The Buffalo National River is one of our favorite national parks to explore.
Have you been here?
Please practice Leave No Trace while enjoying the outdoors.