Ditch the Travel Chaos! 6 Reasons to Road Trip this Holiday Season
Last Updated: Oct 9, 2023
|
|
What do Cousin Eddie from National Lampoon's Christmas Vacation and over 15 million Americans have in common? They are all planning to spend the holidays in their RV. With the projected number of RVers on the road during winter breaks, it's clear the trend is on the rise.
According to Prowly and the RV Industry Association, 29% of Millennials and 20% of GenZ will spend some time from Thanksgiving through New Year in the comfort of an RV. So, if you're one of the 15 million Americans planning to avoid travel chaos during this time of year by hitting the open road in an RV, van, camper, or converted school bus, you're making a smart choice.
From Thanksgiving to New Year's, airports and highways are notoriously packed with stressed-out travelers, while RV parks and campgrounds remain relatively quiet. So, why not ditch the airport and travel in style in an RV, camper, van, or bus? Here are more reasons to ditch traditional travel and enjoy a fun holiday road trip.
1. Flexible Travel Plans
Traveling in an RV or your road trip vehicle of choice provides more flexibility for planning a trip. Travelers aren't committed to being in places such as airports or destinations at specific times.
Though not road-tripping in a traditional RV, Kate Gallagher and her husband of Go Go Gallaghers appreciate the flexibility traveling in their van gives them to follow the best snow in the Colorado Rockies. "We have been traveling to Aspen and Winter Park in our van to snowboard for years. In both destinations, a few places allow overnight parking for free. In Aspen, we catch the free shuttle to the lifts, and at Winter Park, we are steps from the slopes. Visiting with our van allows us to ditch paying the ever-increasing lodging costs in some of the best ski towns in the U.S. while enjoying perfect snow conditions."
Check Out These Aspen Adventures:
2. Spend Time with Family and Friends
For people working around the holidays, taking a few days off for a local road trip is less stressful than planning an elaborate vacation far away from home. It may not be what your family has always done, but it might be a fun opportunity to start a new tradition and make special memories.
"Spending time with friends and family is an integral part of the holidays, and we know that whether RVing together for a holiday vacation or traveling in your RV for a holiday visit, spending time with friends and family is a primary reason people are going RVing this holiday season," said RV Industry Association Executive Vice President James Ashurst.
3. Bring What You Want
Are you worried about leaving the dog at home? Bring Fido along. Have food allergies? Make food in the RV.
Spending Christmas break in a recreational vehicle gives people space to enjoy their environment and have creature comforts while surrounded by the magic of this special time of year.
Outdoorsy Gift Ideas:
4. Less Expensive
Spending winter break at a state park, national park, or RV park is less expensive than a traditional trip, including airfare, hotels, and rental cars. For example, an RV vacation costs 50% less than a trip requiring airfare and hotel rooms. Costs are another substantial reason Americans are opting for that holiday road trip in their RVs.
According to the study commissioned by Go RVing and the RV Industry Association, there are cost savings of 21-64% for a four-person travel party, while a two-person travel party saves 8-53%, depending on factors such as the type of RV and type of vacation.
Why not plan that ski trip like Lauren and David Robinson of Adventuring Robinsons? "This is our third season spending the winter holidays in Steamboat Springs, Colorado, in our converted school bus. It costs around $30 per night to stay at a private RV park (with extended stay rates), bring our home with us, and travel with our dog. We are a 15-minute drive from the slopes or a 50-minute public bus ride." It can cost anywhere from $275-700 per night to stay at a hotel in Steamboat during Christmas.
5. Enjoy the Great Outdoors
Who says the holidays are just for staying indoors and being all cozy? Whether you're hitting the slopes or taking a hike in nature, getting some exercise while enjoying the company of friends and family is a great way to spend your free time.
"Last winter, we spent Christmas in Buffalo National River, a national park in Arkansas. The weather was in the mid-70s, and we had all the trails to ourselves. My wife and I were the only ones at the RV park in our camper. We spent less than $500 for a 4-day road trip 3 hours from home," said Pablo Fechino of The Happiness Function.
6. Support the Local Economy
RV travel and the outdoor recreation industry have exploded in the U.S., contributing $862 billion to the economy along with 4.5 million jobs, according to the Outdoor Recreation Satellite Account (ORSA).
"These two studies demonstrate that the RV industry and its customers are vital contributors to America's economy, and all indications are that they will continue to be so," said RV Industry Association Executive Vice President James Ashurst. "Growth in the industry is being increasingly driven by younger and more diverse RV buyers whose purchases are largely motivated by the desire to experience the great outdoors."
Being outside just feels good, and supporting the local economy is important. Local travel is a great way to travel more and appreciate destinations in your own backyard. When surrounded by nature, it's hard not to relax and appreciate the simple things in life. So it is easy to see why millions of people are choosing to road trip during this magical time of year.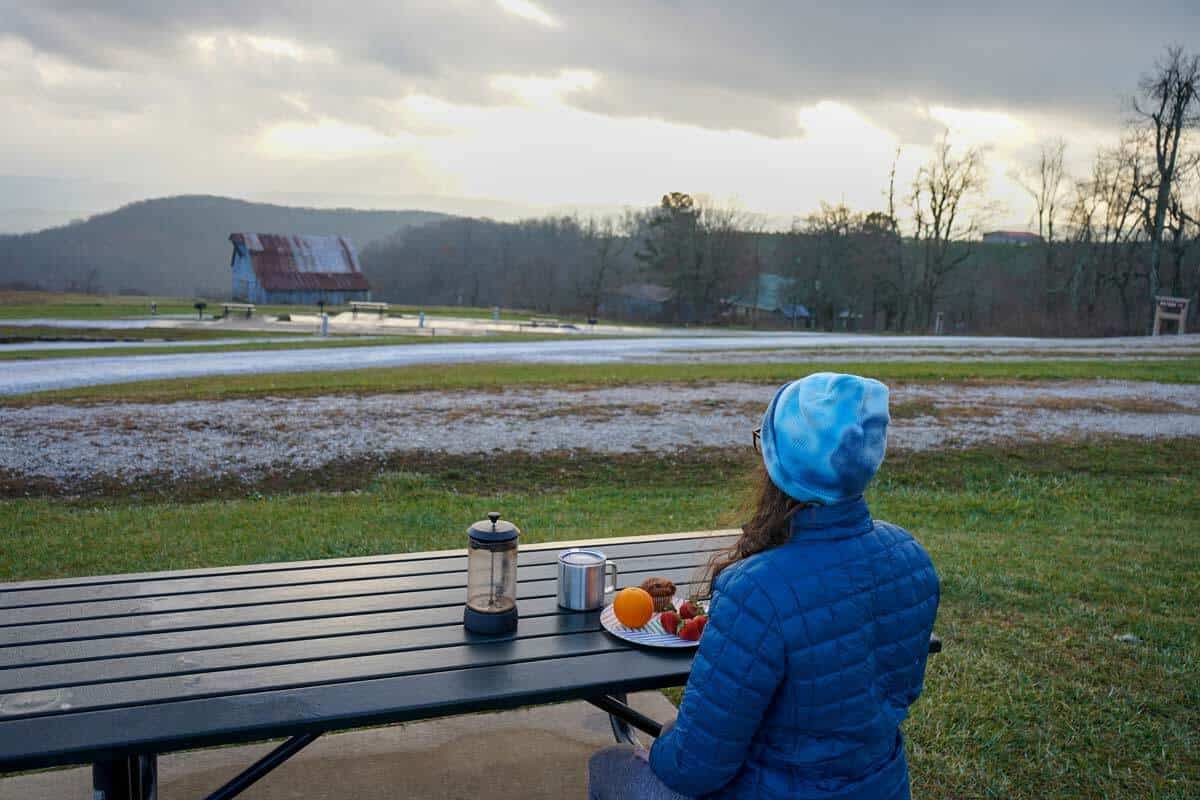 Make New Traditions and Plan a Holiday Road Trip
All in all, the pros of holiday RV travel and road-tripping far outweigh the cons. In today's hurried world, it seems more and more people realize that taking the time to slow down and enjoy the ride is priceless. So, this holiday season, ditch the frantic airport lines and congested highways and opt for a leisurely road trip skiing, hiking, or visiting friends and family instead.
---
More Articles About RV Life
Save on Pinterest!