From Beaches to Swamps: The 6 Best National Parks in Florida To Visit
Last Updated: May 5, 2023
|
|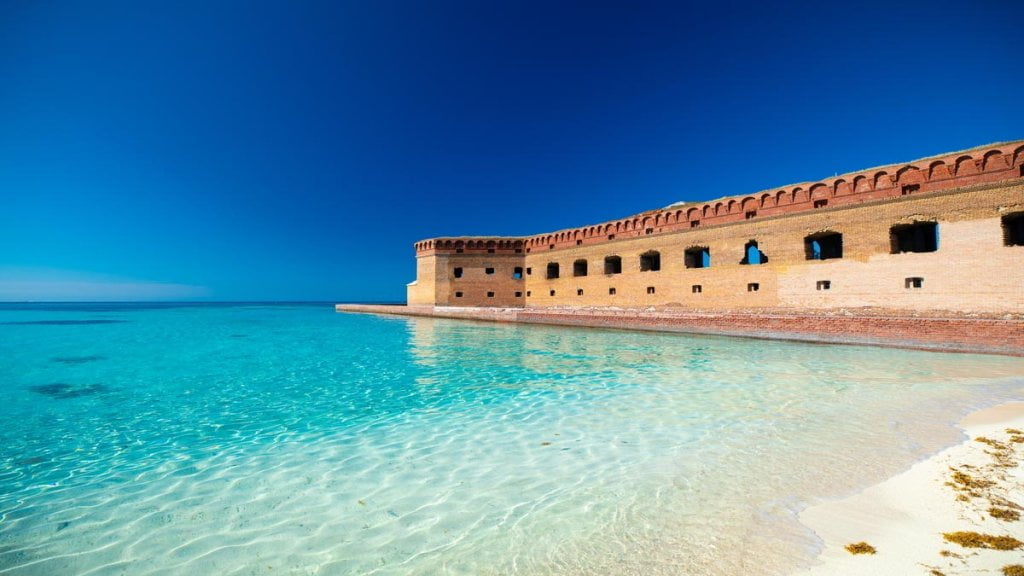 Did you know that sunny Florida is filled with beautiful national parks? There are eleven of them dotted throughout the state! While you might've known about the alligator-filled Everglades, many other parks are incredible and worth exploring. From golden sand beaches to swampy landscapes and remote islands, here are some of the best national parks in Florida for you to visit.
1. Everglades National Park
The most well-known Florida national park, and undoubtedly one of the best as well, is Everglades National Park. Known for its wetland habitat and the creatures that live in it, this natural landscape is undoubtedly unique.
I can say with 100% confidence that the best way to experience Everglades National Park is on a boat tour. With a guide's help, you'll get to spot all sorts of animals, including alligators, manatees, and Florida panthers. And since most of these animals reside in the water (not the panther, of course), a boat is the ideal mode of transportation.
As for which tour companies to use, I'd recommend Everglades Swamp Tours or Everglades Nature Tours.
If you want to venture out alone at Everglades National Park, that's still an option. You can kayak, bike, or even slough slog (what they call off-trail hiking in the swamp-like region) your way through the Everglades too.
2. Big Cypress National Preserve
Bordering Everglades National Park is Big Cypress National Preserve. Because the two are close together, the landscape and activities are very similar.
But then you might ask, why did the national park service decide to separate the two? And that's because, on an ecological level, they're different. If we're being technical, the Everglades isn't a swamp, marsh, or wetland. It's a very slow-moving river. But Big Cypress National Preserve is a cypress swamp, to be a little more precise.
I mentioned slough slogging (also called swamp walking) at Everglades National Park, and you can do the same thing at Big Cypress National Preserve. And while that might seem a little intimidating – walking through murky, creature-filled, knee-high waters – the preserve encourages hikers to do so, as long as you're well-prepared and well-educated, of course.
And if swamp walking isn't your thing, go paddling instead! Get yourself a kayak or canoe and make your way along the Turner River. Along the way, you'll get to soak up the Florida sunshine at some points and enjoy some shade in mangrove tunnels at others. Plus, you'll see all sorts of animals, including alligators, herons, egrets, hermit crabs, and even dolphins!
Unlike most other national parks in Florida, Big Cypress National Preserve is one of the few that is entirely free to visit!
3. Canaveral National Seashore
Canaveral National Seashore undoubtedly deserves a spot on this list of the best national parks in Florida. As a matter of fact, it may be our favorite of all of the Florida national parks.
The 24 miles of untouched coastline that make up Canaveral National Seashore are breathtaking. They're ideal for swimming, suntanning, and wildlife watching – talk about a perfect day at the beach!
But if there's one activity, you'll want to check off your Canaveral National Seashore bucket list, it's shelling. The golden sands are littered with gorgeous shells of all colors and sizes. Collect bright pink calico scallop shells, spiraled Atlantic augers, and everything in between.
4. Gulf Islands National Seashore
But Canaveral National Seashore isn't the only national seashore in the Sunshine State. There's also Gulf Islands National Seashore.
Technically, Gulf Islands National Seashore is split between Mississippi and Florida – with a little chunk of Alabama in between. The Mississippi part is the more popular section of the two. But that doesn't mean that the Florida section of Gulf Islands National Seashore isn't worth a visit!
The Florida chunk of Gulf Islands National Seashore includes parts of Pensacola's best beaches, including Opal Beach, Fort Pickens, Perdido Key, and more. At each of these spots, you can do all your usual beach day activities, including swimming, suntanning, and snorkeling.
But what sets these shorelines apart from the many other stunning Gulf Coast beaches is the wildlife. Since the National Park Service protects this area, it's more habitable for many animals, like dolphins, sea turtles, stingrays, and shorebirds. So keep your eyes peeled!
5. Dry Tortugas National Park
Dry Tortugas National Park isn't easy to get to. Situated at the very end of the Florida Keys – as in further than the famed Key West – you'll have to take a boat or a seaplane to get to this relatively remote national park.
But once you reach Dry Tortugas National Park, you'll understand why it's worth the effort. Of course, history lovers will love a quick visit to the historic Fort Jefferson. But the real highlight is the natural beauty, which is fantastic if you're a nature lover like us.
First and foremost, you'll want to go snorkeling. After all, the park is called Dry Tortugas – a.k.a. turtles – for a reason. You can also just go for a leisurely swim, do a little paddling, or walk around the entirety of Bush Key.
If you like, you can even camp for a few nights – after all, you have to go on quite the journey to get to the park in the first place – so make the most of your time.
6. Biscayne National Park
Located less than an hour outside of Miami, Biscayne National Park is a great place to escape the city and dive into nature. To make matters even better, its crystal clear waters and picture-perfect islands look like they were plucked straight out of a postcard!
As for what to do at Biscayne National Park, be prepared to get wet! 95% of this national park is underwater, after all. And in case you were curious, that remaining 5% is made up of the northernmost islands of the Florida Keys!
Regardless of your plans for the day at the park, you'll want to stop by the Biscayne National Park Institute first. There, you'll be able to rent gear like kayaks, canoes, and paddleboards, join a tour, or simply get some helpful information.
When you finally dive below the surface, you'll be greeted by a world of color! Parrotfish, lobster, manatees, and dolphins are just the beginning of the beautiful creatures you'll get to see in this underwater oasis.
There is no entrance fee.
Discover Florida's Untouched Beauty: 6 Must-See National Parks
Please keep in mind that each national park requires an entrance fee unless otherwise stated. If you plan on visiting more than one national park within the next year, you may want to consider purchasing the America the Beautiful Pass Annual National Park Pass. Depending on how many national parks you're planning to visit, having the pass could save you a good amount of cash.
Whether you're hoping to seek out alligators or soak up some sunshine, the best national parks in Florida have something every nature lover will enjoy. And many are within driving distance of each other, so you might even be able to visit a few different spots during your trip. That sounds like an epic Florida vacation to us!
Featured Image Credit: sergey.miami2you.com/Depositphotos.com.
This article was produced and syndicated by The Happiness Function.